Vaneese Johnson is an engaging and authentic speaker known for bringing Next Level content that is valuable, relevant, and impactful.Combining cutting edge expertise with a fun and relatable style, Vaneese delivers powerful presentations that will address the specific goals of your event.
Are you looking for ways to motivate employees?
Do you want to increase internal retention?
Are you unsure how to increase your market presence?
Do you desire new ways of increasing customer or employee engagement?
Are you an association planner looking for new and fresh content to help you secure membership renewals?
Book Vaneese for Your Next Event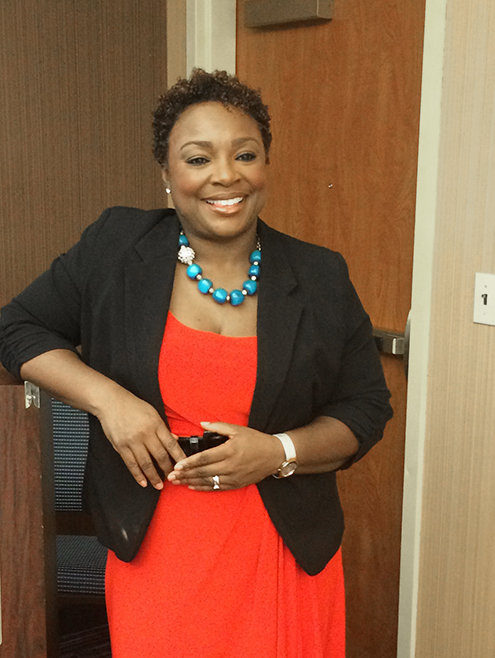 Vaneese combines her years of experience as a Certified Career Coach, Brand Strategy Architect, and Entrepreneur to guide professionals to Define, Design and Brand to maximize their career opportunities. Her innovative and inspiring presentations are infused with useful and on-trend strategies to help your audience reach new heights in their career or business goals.
She has worked with hundreds of professionals from various industries and age ranges. Her programs can be tailored to diverse audiences including high performing professionals, entrepreneurs, business and government leaders, educational institutions, associations, and non-profits.
Vaneese's empowering and engaging message will take your audience through a journey of self-discovery and enlightenment that will help them reinvent their life for greater career or business success.
Speaking Programs Include
Keynotes: 15 – 60 minute custom-designed talks that will motivate your audience to action!
Workshop or Breakout Sessions: 60 – 90 minute interactive sessions filled with techniques to navigate today's ever changing world of business and work.
Career Labs: 15-60 minute on-the-spot individual coaching or presentations to conference attendees to breakthrough career or business barriers.
Webinars: 60 minutes packed with targeted content accessible at anytime.
Career Boot Camp
This content-rich 4-hour program is designed to jump-start your professional development whether you are looking for a new job or seeking a promotion. Discover trends in career management and how to utilize cutting-edge techniques to help advance your career. Learn from career experts on best practices with your resume, social media, and how to land the job you want.
Personal Brand Boot Camp
This comprehensive 3-hour program will give you an in-depth understanding of personal branding fundamentals, branding strategy, and branding tools. Learn techniques to brand your career accomplishments, skills and expertise that could lead to new opportunities in your career or business. You'll discover how to communicate your personal brand, authentically, for career advancement or business success.
Monetize Your Mastery
This impactful 3-hour workshop will help small business owners and professionals identify new revenue streams whether it is to fill in gaps during a career transition, generate supplemental income, or provide entrepreneurs with ways to increase their profits. Learn how to market your skills, talents and/or professional services to attract clients that will pay a premium price for your expertise.
Group Training
Customizable career, social media or personal branding programs ideal for member organizations, corporate groups, academic career centers, and small business marketing teams. Please contact us for group training needs.
---
You delivered expert advice on Personal Branding. Your enthusiastic positive energy engages the audience, and they are able to connect with the content easily. The techniques for Personal Branding Strategies you provided are relevant to anyone in business. The WIB committee would highly recommend you as a speaker to any group that is interested in business and personal development. Lauri H.
On behalf of the planning committee I would like to thank you for the wonderful networking mini-workshop you presented at UCDPI. You did a wonderful job packing in a lot of useful and helpful skills in a short period of time and I think the students really appreciated learning these skills and practicing them during the poster session. In fact, here is what some of them had to say: "Can always use workshops like these!; "I greatly appreciated her energy."; "Great presentation!"; and "The presenter was very engaging. I found her format very useful."
Mijiza S.
Vaneese presented a most relevant topic, "Brand You and Your Career" at Experience Unlimited, a non-profit group for unemployed professionals. With her vibrant personality, she literally changed the energy in the room and provided insightful and valuable information. She shared new insights on using social media to land a job and brand yourself and involved the whole audience with her interactive style. She puts the "p" in pizazz. Rita C.
Our local APA chapter had the pleasure of having Vaneese give a career evaluation presentation to our association chapter. She was a great presenter, shared a lot of useful ideas, facilitated participation amongst all of the attendees, and received positive feedback from our membership. Her presentation caused the attendees to take a close look at where they are in their careers and to think about how to strengthen their personal brand. I highly recommend Vaneese as a presenter and speaker. Dustin D.